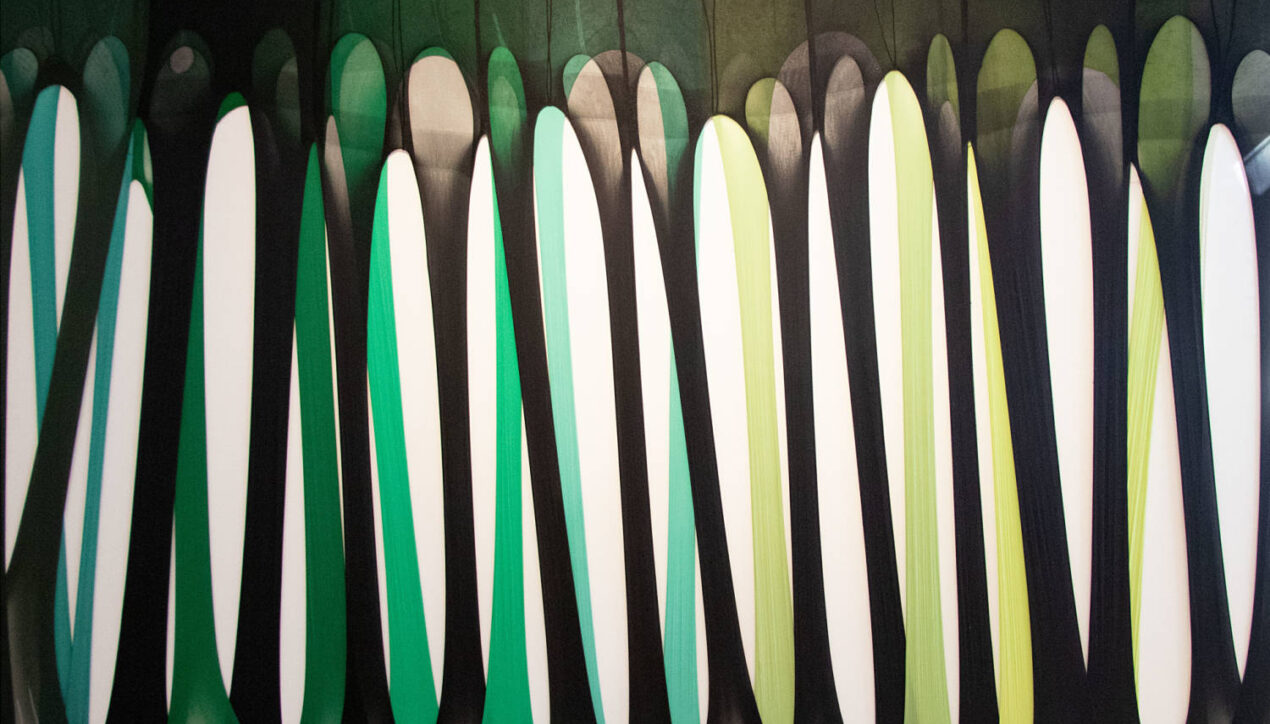 Gossamer curated by Zoe Bedeaux
This September, Carl Freedman Gallery will present GOSSAMER, an exhibition curated by artist Zoe Bedeaux that brings together 22 artists who all work with the medium of tights or stockings. The second exhibition at the gallery's new Margate space will feature works from early-twentieth century pioneers including Man Ray and Louise Bourgeois through to celebrated figures including Sarah Lucas and extend to contemporary talent such as Enam Gbewonyo and Ma Qiusha. GOSSAMER is sponsored by Heist.
THE PREMISE: The show is a survey of artists who have used tights/stockings within their practice; as material or image.
THE POWER OF THE PANTY HOSE: Allen Gant Sr., then running textile company Glen Raven Mills, was inspired by his wife's lament. "How would it be if we made a pair of panties and fastened the stockings to it?" he asked Ethel. She stitched some crude garments together, tried them on, and handed the products to her husband. "You've got to figure out how to do this," she said. Allen brought his wife's experiment into the office, and with the help of his colleagues Arthur Rogers, J. O. Austin, and Irvin Combs, developed what they later called "Panti-Legs." Their product – the world's first commercial pantyhose – began lining department store shelves in 1959.
2019 marks 60 years of Tights!
HOSIERY AND ART: Pantyhose within the context of art inspires a complex emotional dialogue. They can be used to give form to various figurative sculptures. Or used in a more abstract manner. They can be subject as well as medium. But what happens when artists use a material that has been constructed to function around intimate parts of the female form? (Before the advent of stockings and tights women's legs were never seen). What power does it have as a material: one that is visible yet invisible, a material that has liberated the female form like no other? (Historically it was the men whom wore the tights… But that's a whole other story). What are the social and political estuaries emanating from the premise? How are considerations of Race, Gender and Sex bound up in these gossamer threads?
THE ARTISTS:
Elmer Batters
Zoe Bedeaux
Marianne Berenhaut
Polly Borland
Louise Bourgeois
Leigh Bowery – Fergus Greer
Martin Soto Climent
María Ezcurra
Shirin Fakhim
Enam Gbewonyo
Gary Hume
Allen Jones
Sarah Lucas
Turiya Magadlela
Pierre Molinier
Daido Moriyama
Senga Nengudi
Polly Penrose
Ma Qiusha
Man Ray
Roman Stańczak
Ulay
ZOE BEDEAUX:
Hosiery in the context of art inspires a complex multi-layered emotional dialogue. The emotions are dependent on the viewer and the agency the artist allows the material to convey. What appears to be folly on the surface is extremely complex and deep. Tights represent the skin we are in and opens up a myriad of worlds and underlying socio-political subtexts. It is my hope that these will be the portals through which the viewer will journey. It has been such an exciting process curating a show that brings together these extraordinary works that explore the alchemy of hosiery.
CARL FREEDMAN:
We feel proud and excited to be putting on the gallery's first truly historical group show and there is something special about bringing such a diverse range of work by 22 international artists to Margate.
HEIST:
Heist is thrilled to be the sponsor for Gossamer.  Zoe Bedeaux has brought together 22 artists who have all worked in the medium of hosiery to do something totally original. Since we built Heist by reinventing hosiery, and are working to liberate women from disappointing underwear, we can't wait to see each artist's approach to the product we live and breathe every day.'

Toby Darbyshire, Heist Founder and CEO.
Image credit: Turiya Magadlela, Walking Towards God in Green, 2019, nylon and cotton pantyhose and sealant on canvas, 176 x 240cm