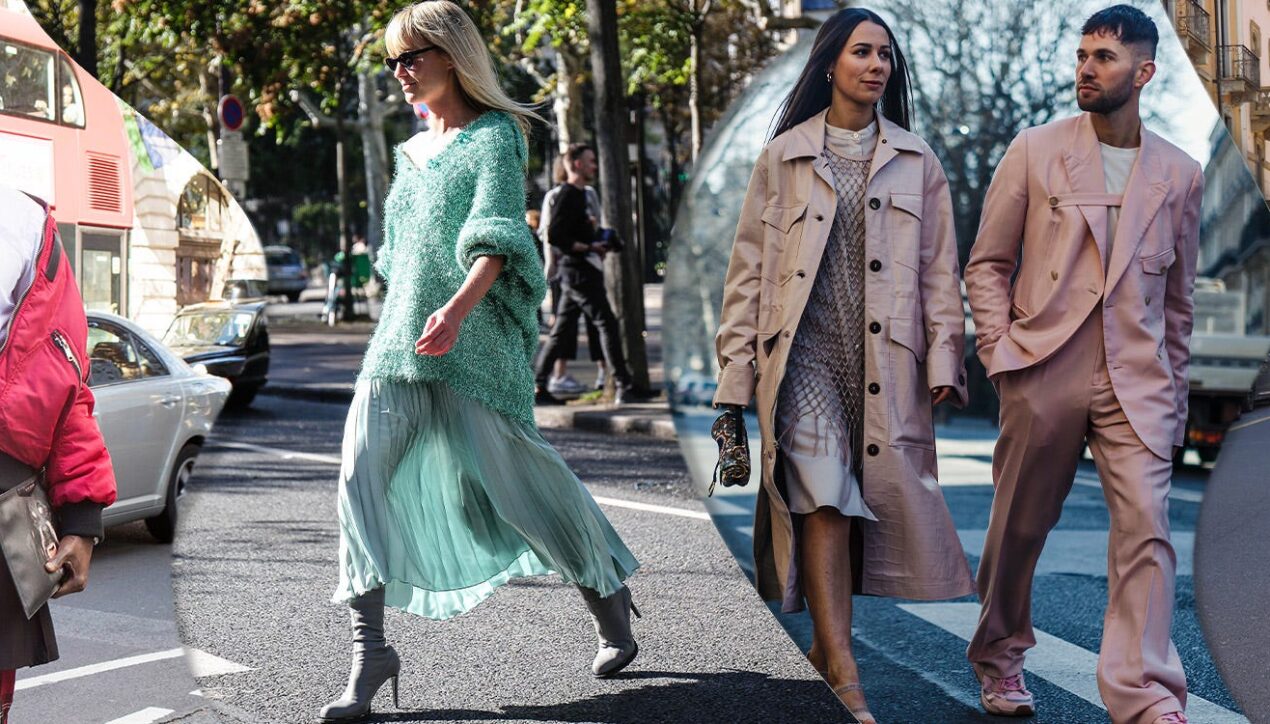 Pantone Color Institute Releases Pantone Fashion Colour Trend Report Autumn/Winter 2022/2023 For London Fashion Week
AN IMAGINATIVE AND INTRIGUING MIX OF TIMELESS TONES AND ARTFUL BRIGHTS EMBRACE OUR CONTRASTING DESIRE FOR SERENITY AND STABILITY WITH ENERGY AND EXCITEMENT
London, UK, 18 February 2022 – Pantone LLC, the global authority on colour and provider of professional colour standards for the design industries, today announced the Pantone Fashion Colour Trend Report Autumn/Winter 2022/2023 edition for London Fashion Week (LFW). Published for the fashion industry by the Pantone Color Institute, the trend forecasting and colour consultancy, this season's report features the top ten standout colours as well as current takes on five core classics we can expect to see as fashion designers introduce new Autumn/Winter collections.
Highlighting the chaotic to the calm, colour for LFW Autumn/Winter 2022/2023 merges our nature-centric respect for the environment and craving for serenity and wellbeing with light infused pastels and energising brights whose message of joy and optimism, celebrates the now. Coming together in a palette rife with conventional contradictions, colours for Autumn/Winter 2022/2023 reflect our need for harmony and tranquility while at the same time provide the opportunity to express our individuality without restraint.
"As we look to the future, we see two emerging paths that while completely diverse, are inevitably inter-connected." said Leatrice Eiseman, Executive Director of the Pantone Color Institute. "This intense dichotomy comes through in our colour choices for Autumn/Winter 2022/2023 where we see bold and brash colours that lend themselves to exaggerated statements reflecting our desire to embrace life with full vigor, coalescing with an array of neutral and natural tones that embody a sense of calm and containment and satisfy our need for harmony and tranquility."
About the Autumn/Winter 2022/2023 London Colour Palette
Timeless tones and artful brights embrace our contrasting desire for serenity and stability with energy and excitement.
The Autumn/Winter 2022/2023 Core Classics
Classic, seasonless hues whose versatility express longevity.
---
ABOUT FASHION COLOR TREND REPORT
The colors featured in the semiannual Pantone Fashion Color Trend Report are selected from the Pantone Fashion, Home + Interiors Color System, the most widely used and recognized color standards system for fashion, textile, home and interior design. Each season, the Pantone Color Institute issues the Pantone Fashion Color Trend Report as semi-annual color trend forecasts for the upcoming season, highlighting the top colors you can expect to see at New York Fashion Week and London Fashion Week. The Pantone Fashion Color Trend Report serves as a color reference throughout the season for retailers and brands as well as fashion enthusiasts and reporters.
ABOUT THE PANTONE COLOR INSTITUTE™
The Pantone Color Institute is the business unit within Pantone that highlights the top seasonal runway colors, selects the Pantone Color of the Year, forecasts global color trends, and advises companies on color for product and brand visual identity. Through seasonal trend forecasts, color psychology, and color consulting, the Pantone Color Institute partners with global brands to effectively leverage the power, psychology, and emotion of color in their design strategy.
ABOUT PANTONE
Pantone provides the universal language of color that enables color-critical decisions through every stage of the workflow for brands and manufacturers. More than 10 million designers and producers around the world rely on Pantone products and services to help define, communicate and control color from inspiration to realization – leveraging advanced X-Rite technology to achieve color consistency across various materials and finishes for graphics, fashion and product design. Pantone Standards feature digital and physical color specification and workflow tools. The Pantone Color Institute™ provides customized color standards, brand identity and product color consulting as well as trend forecasting inclusive of Pantone Color of the Year, Fashion Runway Color Trend Reports, color psychology and more. Pantone B2B Licensing incorporates the Pantone Color System into different products and services, enabling licensees to communicate and reproduce certified Pantone values and improve efficiencies for their users. Pantone Lifestyle brings color and design together across apparel, home, and accessories.
Чтобы устранить риск неприятных сюрпризов, при покупке чулок старайтесь выбирать их цвет при дневном освещении, потому что искусственный неоновый свет большинства магазинов делает цвет чулок светлее, чем он есть в действительности.

— Женевьев Антуан Дарьо
3