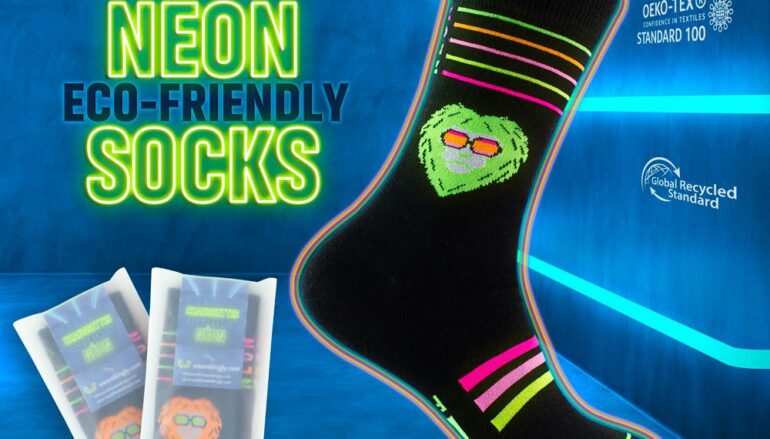 Probably The Most Sustainable Socks In The World
See how Kingly has created probably the most sustainable socks in the world. Some companies create products only for profit. Others want to change the market and the way things are done. 
In a world ruled by fast fashion, we have become obsessive consumers. However, we should make ethical purchasing decisions the new normal and glorify SLOW fashion. The quick gratification we get from shopping or getting a new item is great, but do we ever think about the environmental impact the product we are holding has caused?
In the promotional merchandise industry, many companies focus on imported items that are practically inexpensive. Often when something is cheap it turns out to be at the expense of the environment or the people who have created it. Unfair wages, polluted cities, water being withdrawn from communities are the typical scenarios in the manufacturing of yarn for socks knitting.
This is why at Kingly, we want to give back to the people who work for us, source our products from ethical origins and most of all try to preserve the already scarce resources of this planet. 
This story is about our Neon socks and the way they are made because typically the materials that go in such a product are not ethically sourced or good for the environment. Kingly's are made from GOTS certified organic cotton and GRS certified regenerated polyamide yarns, which are extremely important and you will see why.
Polyamide dates back to 1939 World's Fair of New York. Back then the fabric was marketed as strong as steel and practically unbreakable. Later, during World War II it was used to make parachutes and eventually because of the shortage of clothing, women would recycle the parachutes making them into a dress.
The concerns about this type of fabric and its impact on the environment began in 1945 when the yarn would amount to 25% of the textile industry. Today the market of polyamide is estimated to be 12%, however, environmental impact is stronger than ever, because this material simply does not biodegrade and the greenhouse gas that it creates is hundreds of times stronger than carbon dioxide.
Polyamide has great benefits such as softness and elasticity, however, keep in mind that once thrown away it will stay on this planet forever. This is why all of our yarn is regenerated, to try to preserve our surroundings while at the same time we create products of exquisite quality. All our claims are backed up by transaction certificates.
Sustainability is not only about creating items that will be less wasteful but also about taking something that would be considered garbage and making a great new sock or a sweater that people can enjoy and use again. Being eco-friendly is part of our sustainable drive towards the future. Our organic cotton is sourced with the planet in mind, we do not source from places where people's water is being diverted from their communities, or are significantly underpaid and our certificates can prove that.
So, we successfully created a neon sock that glows without harmful chemicals and without further polluting the environment, without threatening communities' well-being or using materials that will be against our core values.
The result was a sustainable neon sock that can glow and while it is eco-friendly it is also one of the greatest promotional gifts we have ever created. Considering the fashion trends this type of sock is not only fun but also a great accent piece that would tie a whole outfit together whether it is a sport or office-casual. Our neon socks would make you want to show them off!
The Key Takeaway
At Kingly we truly dare to be different. We want to change the way the textile industry operates and the change starts with us. Having sustainability as our core value is the key to the difference we want to make in this world!
---
About Kingly Ltd: 
Kingly is one of Europe's leading producers of socks & bespoke clothing, promotional textiles, Creative Garment Packaging and Cosmetic products all underpinned by a rapid move towards sustainability. Considered by many to be the fastest and most reliable producer in Europe, we pride ourselves on an unmatched combination of price, quality and service.
Kingly offers an amazing selection of sustainable products backed up by our certifications: SMETA PILLAR 4, ISO9001, ISO14001, ISO45001, GOTS, OEKO-TEX, GRS and BCOME Cradle-to-Grave Platform.  All yarns and materials used in the production of our apparel use Oeko-Tex certified materials.
На пухлых ногах чулки выглядят вызывающе эротически. Чулкам на худых ногах сразу хочется читать стихи.

— Ирина Прибора
3